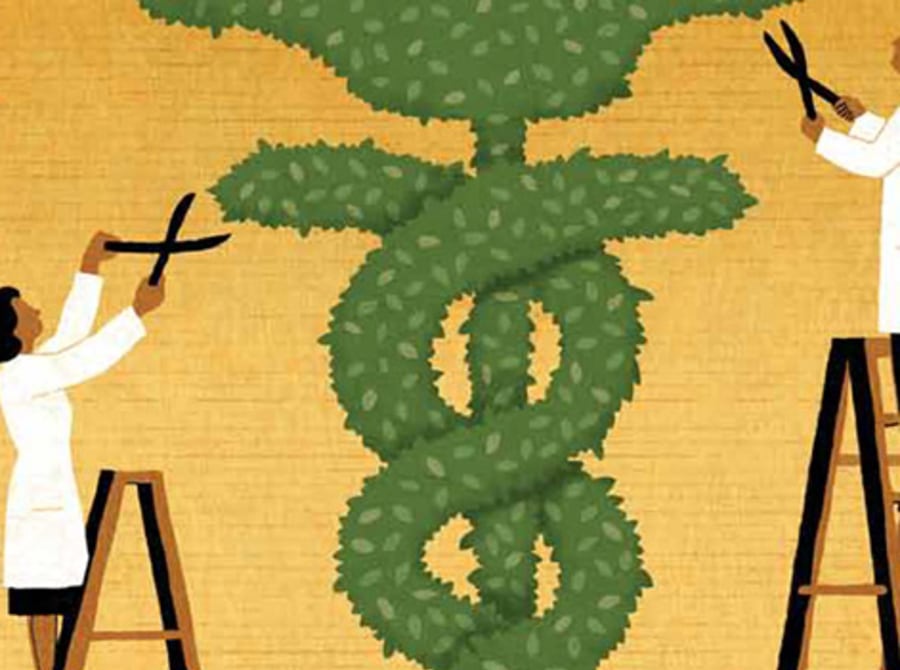 Provider insights
The post-reform health system: Meeting the challenges ahead
The US healthcare industry is entering a period of significant turbulence and disruption. A number of underlying market forces — including shrinking group commercial risk pools, a slowing in the rate of growth in government reimbursement, and the ongoing shift from inpatient to outpatient care — are putting increasing pressure on providers to become more efficient than ever before.
In addition, competitive dynamics have engendered three "epic struggles" that could significantly reshape the US healthcare industry. These struggles will play out over the next 12 to 36 months; at present, their outcomes are largely unpredictable. The first of them is the battle for control of Medicare patients. Health insurers have been linking with primary care groups to reduce hospital utilization rates among these patients; at the same time, health systems have been launching their own plans to compete for these patients at the front end. The second struggle results from the accelerating trend toward bilateral vertical integration. Health systems and health insurers are deploying capital to acquire—and employ—large groups of physicians; health systems are also entering, or increasing their participation in, the health plan business (either explicitly or through more subtle channels, such as direct-toemployer contracting on a risk-bearing basis). The third struggle arises from the emergence of narrow networks, which is creating a "winner-takes-all" mentality among the providers in many markets.
This combination of market and competitive forces is prompting many health system leaders to transform their organizations in fairly fundamental ways. These leaders must evaluate and select strategies, partnerships, and organizational designs that are likely to have an enduring impact on their organizations. Among the questions they are asking themselves: how big should my system be? What strategies should I use with physicians? When should I build capabilities, and when should I buy them? How should I play in Medicare? How much risk should I accept? How should I play in population health management—and how fast? How should I price for the individual exchange population?
Time to make these decisions is running out. Despite current uncertainties, health system leaders must take quick, decisive action now, before reimbursement pressures intensify in 2014 and utilization pressures become more acute. If they want to avoid strategic difficulty, health system leaders should adopt a set of sound "first principles" to guide their strategic actions. These principles should include the following ideas.
No matter what happens, you need to be more efficient than before. This is a dominant strategy.
Growth and taking market share require a willingness to explore different relationships with others in the healthcare value chain—but physician alignment is the key to all of these relationships.
Old strategies that target only patients who have commercial insurance will not work any longer. In each market, you must have deliberate strategies for the commercial, individual, and government segments.
Complex functions tend to have natural owners, and those owners may not always include your organization. (You are not likely to be the "best in breed" at everything.) Regardless of your system's size, you may sometimes need to find strategic partners that can help you acquire needed capabilities. You must then make sure that those partners can be integrated successfully into your organization.
In the future, competitive advantage will come from execution and functional superiority. Just getting bigger will not make you better—or more competitive.
The articles in this publication examine these principles in greater detail; they also contain a wealth of other advice for health system leaders who want to succeed in the postreform era. The articles cover a range of both operational and strategic topics. Some, for example, describe how health system leaders can increase physician alignment, transform their clinical operations, strengthen nursing care delivery, and optimize their revenue cycle management. Others discuss how those leaders can capture the benefits of scale without destroying value, understand the impact of coverage shifts on hospital utilization, and develop robust pricing strategies when participating in narrow network exchange offerings. In addition, one article outlines the transformational imperatives specific to academic medical centers in the post-reform era.
If you would like more information about any of these topics, please contact one of the article's authors directly or one of the McKinsey partners you work with regularly. He or she will be happy to connect you to the right experts.
See all the articles on McKinsey.com
Articles in this compendium
---