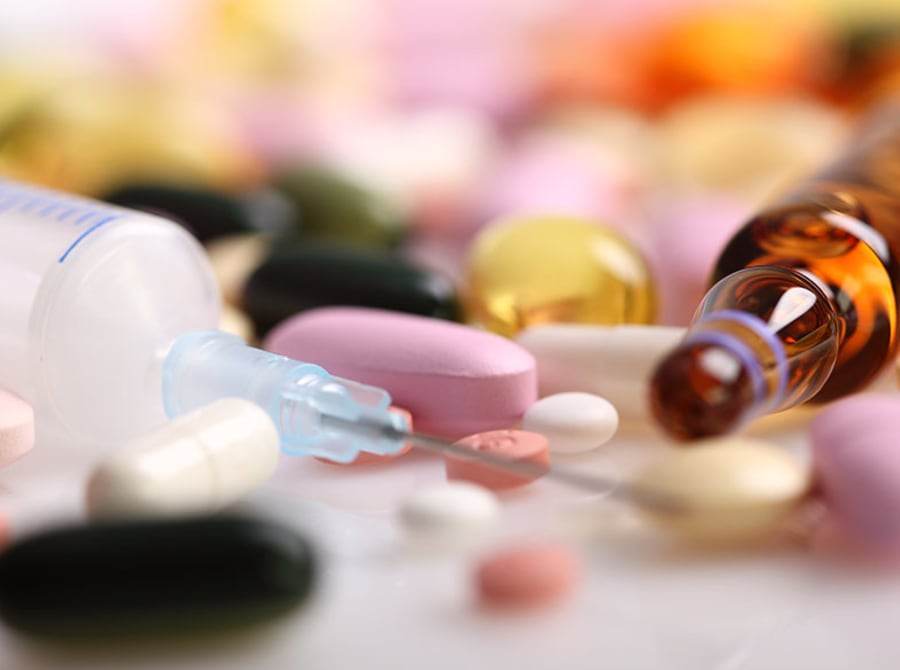 Payer insights
Pharma spending growth: Making the most of our dollars
Pharmaceutical spending is at an inflection point. Growth in payors' spending on drugs, which had been relatively tame in the decade before 2013, has accelerated in the past three years.
In the pre-2013 era, patents on a large number of blockbuster drugs expired, which helped offset spending growth from new drugs entering the market. Payors promoted the use of lower-cost generic equivalents, especially through tiered formularies and step therapies. Between 2000 and 2015, the percentage of workers whose health plans included three or more drug tiers rose from 27% to 81%.1 Today, more than 85% of all prescriptions are filled with generic drugs.2 By encouraging generics use, payors were able to slow the rise in their prescription drug costs—between 2010 and 2013, per member per year (PMPY) pharmacy spending increased by only 4.1% annually.3
More recently, patent expiries have slowed, and innovation in the pharmaceutical industry has led to a host of novel therapies, many of which are potentially transformative—they hold promise of markedly improving the treatment of many common conditions and, in some cases, curing previously incurable diseases. This innovation comes at a price, however. Between 2013 and 2015, payors' PMPY pharmacy spending rose 11.7% annually. Growth has been driven primarily by the introduction of specialty drugs and rising prices (Exhibit 1). In 2015, PMPY spending on specialty drugs jumped 17.8%, compared with –0.1% for other drugs.4
Both trends—innovation and rising prices—are expected to continue. As of 2015, there were approximately 7,000 new drugs in development around the world,5 some of which are likely to come on the market within the next few years. The combination of numerous new products, rising prices, and growing use will likely cause payors' spending on specialty drugs to continue accelerating. Although biosimilar approvals, competition within drug classes, and the increased use of rebates may ameliorate the impact of these innovations, the higher expense resulting from use of these therapies could still be a growing line item in the overall cost of care. By 2018, specialty drugs are projected to account for 50% of overall drug spending. In 2010, only three of the top 10 highest-grossing drugs were specialty drugs; nine of the top 10 are projected to be in the specialty category by 2020.6
Exhibit 1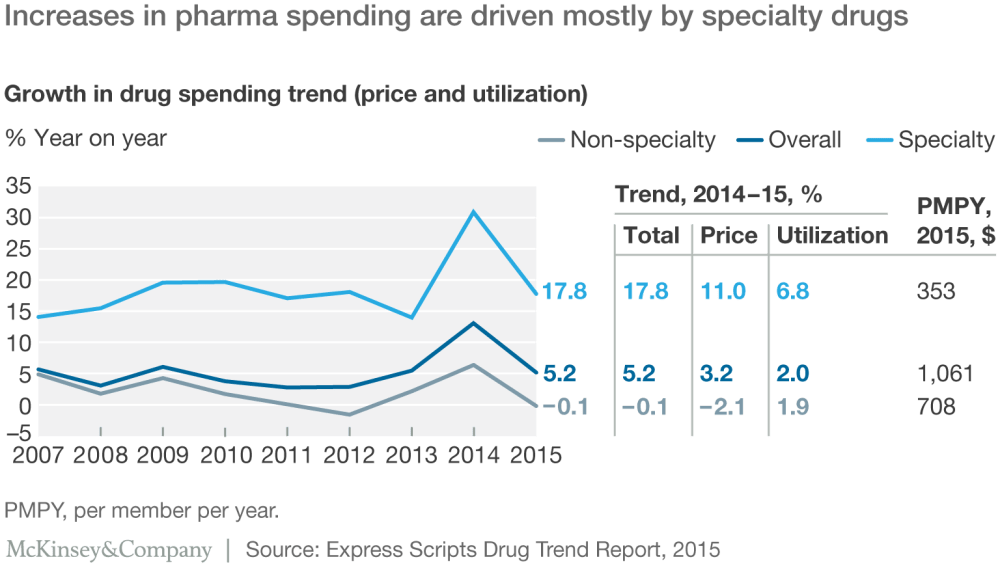 Payors and pharmacy benefit managers have responded to this trend not only through formulary tiers and step therapy but also through prior authorization and, more recently, by fully closing formularies and excluding certain drugs from them. This year, Express Scripts and Care­mark, combined, have excluded more than 240 drugs from their formularies, 39 of which are specialty and oncology drugs.7 These techniques have been effective in driving substantial increases in pharmaceutical discounts but have also limited access to the drugs.
As more of the new specialty products come on the market, payors, pharma companies, healthcare policy makers, and others must address how to balance the value the new therapies bring with affordability. Presently, there are no clear answers. Pharma com­panies created medical advances and want to be paid for their R&D investments and innovation, while payors need to keep their health plans affordable for consumers. This conundrum must be solved, not for one drug at a time but across the breadth of products in the pipeline. Payors that want to keep up with the rising tide of innovation have three avenues they can pursue:
First, fully leverage existing formulary and utilization management tools. Exclusions and utilization management can be highly effective. However, too few payors (be they employers or health plans) implement them at all, and many of those that do limit them to only a subset of products. Furthermore, these tools can offer additional potential if they are used to create more prescriptive lines of therapy for complex conditions (preferred first-line, second-line, and even third-line drugs) that are implemented by indication. Taken together, these actions could help payors garner larger discounts and help shift a significant proportion of patients to lower-cost therapies.
Second, bring tighter controls to physician-administered pharmaceuticals. Historically, physician-administered pharmaceuticals have been far more difficult to manage through post-hoc billing (in comparison with what can be done real-time in a retail pharmacy), and payors have been reticent to disrupt physician practice. Although initial steps have been taken in several drug categories to better control spending on physician-administered pharmaceuticals, progress in this area has been limited. However, as payor and provider systems become more integrated, opportu­nities will likely arise to make much greater use of control strategies, including formularies, indication-specific pathways (leveraging ready access to diagnostic codes), and differential physician reimbursement.
Third, explore more creative solutions. A number of questions have arisen as the United States has started moving away from fee-for-service reimbursement. How, for example, should risk sharing be applied to the pharmaceutical industry? If payors are using value-based reimbursement for hospital care, should they do the same for expensive new drugs? And if so, how should they measure the outcomes achieved and value delivered—particularly given that some of these new drugs can prevent costly complications but only over the long term? Before the US healthcare system can apply value-based reimbursement to pharmaceuticals on a broad scale, multiple challenges must be addressed, including the propensity of patients to change insurance companies; the specific roles that payors and pharmacy benefits managers will play; and the complexity of establishing clinical baselines and collecting data to measure diagnoses, treatments delivered, and outcomes achieved. Nevertheless, the time is now to begin to attempt using creative solutions to these issues. Some ideas we have seen imple­mented in other countries include:
Patient-level cost caps. Pharma companies assume the cost for patients that remain on a drug for longer than the specified course of treatment.
Managed entry. Payors agree to pay a higher price for certain drugs as more evidence of the drugs' efficacy becomes available, or pharma companies agree to pay a rebate to payors if the drugs fail to deliver claimed clinical benefits.
Guarantees for non-responders. Pharma companies agree to refund the cost of drugs for patients who do not respond after under­going a specified treatment protocol.
Finally, having an accurate understanding of the drug development pipeline will be increasingly important when payors negotiate about an expensive new therapy. How many similar agents are in the pipeline, and how many of those are likely to make it to market? The possibility that another drug will be available soon improves a payor's negotiating position; the absence of such a drug works in the pharma company's favor.
The new therapies at pharma's inflection point represent exciting advances in medicine. At the same time, they have meaningful implications for healthcare affordability and health plan economics. While the path forward has yet to be determined, existing modelsfor both pharma companies and payors in the United States will likely shift significantly in the coming years. 
Kaiser Family Foundation/Health Research & Edu­cation Trust. Employer Health Benefits Survey, 2008 and 2015.
Generic Pharmaceutical Association. 2016 Generic Drug Savings & Access in the United States Report.
McKinsey Payor Financial Database, based on data from MLR reports, NAIC Supplemental Health Care Exhibits. Analysis based on prescription drugs claims net of pharmaceutical rebates.
The Express Scripts Drug Trend Report, 2015.
PhRMA. 2015 Biopharmaceutical Research Industry Profile. April 2015.
National Business Group on Health. Policy Recommendations to Promote Sustainable, Affordable Pricing for Specialty Pharmaceuticals. January 2017.
CVS Caremark and Express Scripts formulary announcements.
---