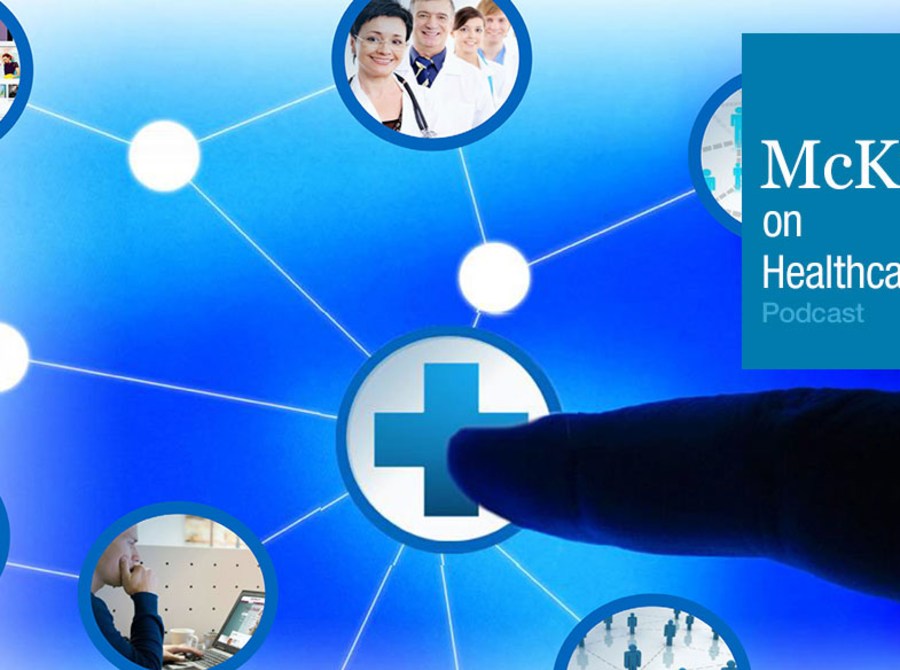 Atomization of the network: How far will it go?
Following the strong backlash that arose against managed care in the 1990s, few innovations in hospital network design took place until payors began planning for the 2014 open enrollment period (OEP) in the individual market. At that time, many of them introduced plans with "narrowed" hospital networks1 as a way to hold down costs. Almost half of the plans offered on the public exchanges during the first OEP had narrowed networks, and the median premium for a narrowed network plan was 11% to 17% lower than the median premium for a broad network plan (depending on the metal tier).2
Since then, the trend toward narrowed networks has accelerated. For example, among the plans offered by national payors3 during the 2017 OEP, 74% had narrowed networks; the comparable number for the national payors that operated in the 2014 OEP was 57%. Furthermore, the cost advantage that narrowed network plans give consumers increased during that time—in the 2017 OEP, the median premium for a narrowed network plan was 18% to 35% below the median premium for broad network plans (Exhibit).
Exhibit 1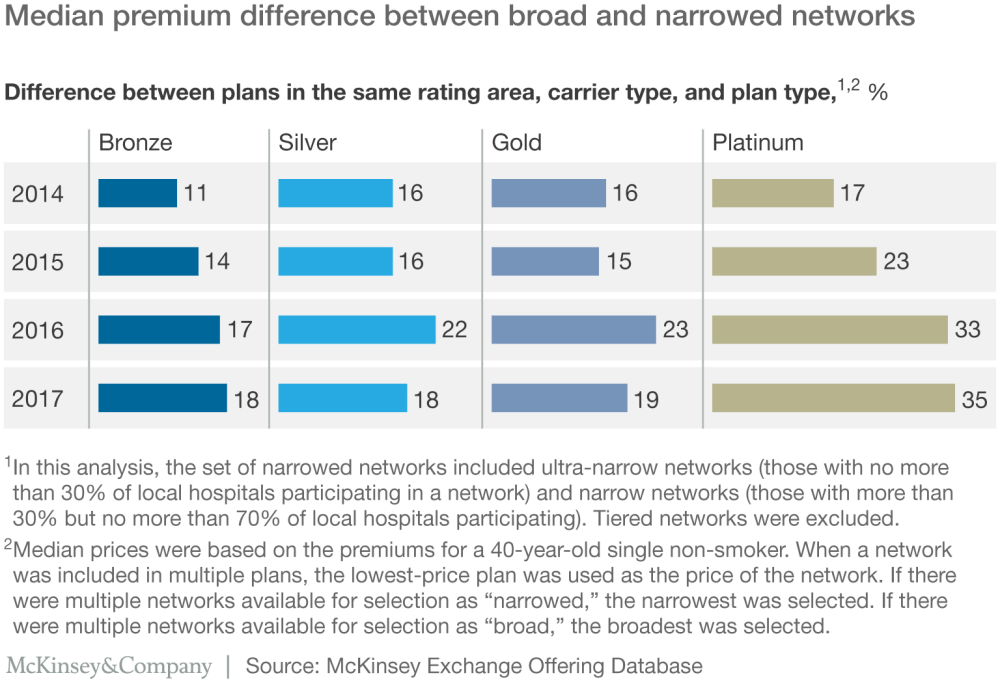 Because narrowed networks allow payors to control their spending on hospital care, they hold the potential to help payors reduce their cost base and further lower premiums (see our recent white paper, "The next imperatives for US healthcare").4 However, concerns have been raised about whether narrowed networks restrict patients' access to appropriate care. (We did not evaluate network adequacy as part of this research.)
Provider-led health plans, which focus their networks on their own facilities, can be considered a type of narrowed network, and they too are becoming more common. Between 2014 and 2017, the number of providers that offered plans on the public exchanges increased from 64 to 76, and 20% of the plans offered in the 2017 OEP were provider-led plans, up from 16% in 2014.5 This trend has been playing out in the Medicare Advantage and Medicaid markets as well.
Today's consumers appear to be willing to accept narrowed networks. After the close of the 2016 OEP, we surveyed consumers who were eligible to purchase qualified health plans (QHPs) in the individual market. Among the respondents who said they had purchased a new plan, 45% reported selecting a plan with a narrowed network, up from 34% in our 2015 post-OEP survey (see our recent white paper, "Understanding consumer preferences can help capture value in the individual market").6 Our survey results also suggest that consumers value having their preferred physician in network over having a range of provider options: 21% of the respondents who bought new plans in 2016 cited having their preferred doctor(s) in network as the factor with the strongest influence on their purchase decisions. By comparison, having a wide selection of doctors or hospitals in the network was ranked first by less than 5% of consumers.
Consumers are not completely satisfied with narrowed networks, however. In our 2016 post-OEP survey, 60% of the respondents who said they had bought a narrowed network plan during the previous OEP reported having had issues (e.g., unexpected out-of-pocket costs, lack of access to a preferred provider) when they tried to access care; the corresponding figure among those who purchased broad network plans in 2015 was 38%. Nevertheless, only 9% of the respondents who had purchased narrowed network plans in 2015 said they had switched to a broad network plan in 2016.
While the penetration of narrowed network plans in the commercial group market is still relatively low, our employer surveys suggest that many companies are considering adopting them. In our 2016 survey, only 5% of the employers indicated that they offer a narrowed network plan today.7 However, 51% said they were considering offering such plans as a way to hold down benefits costs. Furthermore, the percentage of employers who said they were very interested in adopting narrowed network plans was nearly twice as high in 2016 as it had been in our 2011 survey (22% vs. 12%). Interviews we conducted suggest that most employers are likely to offer narrowed network plans alongside more traditional broad network products; similarly, 79% of the 2016 survey respondents who said they were interested in narrowed networks indicated that they would offer them as an additional option.
For payors, the economic advantages of offering narrowed network plans are becoming increasingly clear.8 Our analysis of 2014 exchange plans showed that once the 3Rs—risk adjustment, reinsurance, and risk corridors (the mechanisms intended to stabilize payor financial performance in the early years of the public exchanges)—are taken into consideration, narrowed network plans had better aggregate margins and lower claims than broad network plans did. This difference likely resulted, in part, from the unit-cost advantages of narrowed network plans. The combination of the improving relative pricing of narrowed network plans and their superior financial performance suggests that the plans may be emerging as a sustainable element of exchange plan design.
Thus, network narrowing may be here to stay. If true, it raises two questions: How far will network narrowing go? And what risks does further narrowing present to payors and providers? The growing use of health-related digital technologies—including scheduling applications, cost and quality transparency tools, and virtual visits with physicians—could eventually give consumers the ability to create their own hyper-narrow networks. Although this level of atomization of provider networks may seem far-fetched right now, it is not impossible. If consumers are able to create their own hyper-narrow networks, payors may risk being disintermediated.
Payors may also face a less obvious—but more immediate—risk from provider-led plans. In the 2017 individual market OEP, 48% of QHP-eligible consumers had access to a provider-led plan, and 18% of consumers were in markets where provider-led plans had the lowest-price silver plan (up from 10% in 2014).9 Thus, provider-led plans may be poised to gain market share.10
Another risk payors face is the need to increase their analytic capabilities. To compete in a market with greater pene­tration of narrowed network products and maximize premium savings for consumers, payors must be able to conduct provider scoring and perform the complex analytics required to estimate the total cost of care as accurately as possible.
Network atomization also presents potential risks to providers. At present, many providers are consolidating, in part because of the belief that vertical integration will give them a stronger position from which to negotiate with payors about network inclusion, and also help them reduce transactional friction and costs. However, the complexity inherent in consolidation produces its own costs, and recent changes in Medicare reimbursement may make further vertical integration less attractive. Atomization could erode some of the advantages of health system integration.
Narrowed networks could evolve in many ways, but the evidence suggests that their prevalence is likely to increase. Customer-built provider networks may never materialize—but they could also be a logical extension of network narrowing. One thing seems clear, though: the healthcare industry in 2020 is highly likely to be as different from today as today's industry is from the one we knew a few years ago. It remains to be seen what role the further atomization of networks will play in the future of the industry.
Network types vary in their hospital participation. Narrowed networks include narrow networks (more than 30% and no more than 70% of hospitals participate), ultra-narrow networks (no more than 30% of hospitals participate), and tiered networks (any network with multiple levels of in-network cost-sharing for hospital services), unless otherwise noted. Note: Only hospital networks are considered in these analyses. Physician networks are not covered.
Coe E, Bello J, Lamb J. Hospital networks: Perspective from three years of exchanges. McKinsey Center for US Health System Reform Infographic. March 2016.
National: a commercial payor with a presence in more than four states that has filed on exchanges (specifically, Aetna/Coventry, Assurant, Cigna, Humana, UnitedHealthcare).
Singhal S, Coe E. The next imperatives for US healthcare. McKinsey white paper. December 2016.
McKinsey Exchange Offering Database.
Anand P, Coe E, Cordina J, Rivera S. Understanding consumer preferences can help capture value in the individual market. McKinsey white paper. October 2016.
McKinsey 2016 Employer Health Benefits Survey.
Coe E, Finn P, Miskufova M, et al. Exchanges three years in: Market variations and factors affecting performance. McKinsey Center for US Health Reform Intelligence Brief. May 2016.
These figures do not include plans offered by insurers that are co-branded with a provider.
For another perspective, see: Fields D, Latko B, Latkovic T, Ward T. US health insurers: An endangered species? McKinsey white paper. April 2017.
---